I've been a bit obsessive this week as I've been trying to research and find a new camera that I would really like. The last one died last weekend… so we were facing the trip home for Christmas with no camera! Before Beaumin was born, not having a camera for a few weeks would have been a non-issue, but now, we take multiple pictures a day!
I talked with several friends who are way more "camera geeky" than I am… I'm pretty ignorant of photography for the most part, but I wouldn't mind learning a bit more. So I only had a few basic criteria:
Pretty decent low-light (indoor) photos
Use AA batteries (I really like having easy access to spares in a pinch)
Some advanced features so I can learn more if I get motivated
Not required but very nice to have items were:
Big optical zoom (because its really nice)
Viewfinder (because sometimes glare just makes LCDs useless)
Semi-fast flash recharge
It was soon obvious that I was looking for an "Advanced Point and Shoot" for which a few of the top players were Nikon's P80 and Canon's SX10 IS. I have some friends who are die-hard Nikon fans and others who are die-hard Canon fans, so this was tricky. 🙂
The P80 was a bit more inexpensive, and Pro Photo Supply in Portland, is primarily (though by no means completely) a Nikon shop, so they packed some extra value with their Nikons, including a free 2-year add-on to the already present 1-year warranty, and a basic leather camera case. The biggest single downside for me was that it uses a custom Li-ion rechargeable, and one of my bigger criteria was to use AA batteries. However, it is pretty light, has a nice interface, and seemed good overall with an 18x zoom and a nice wide mode too (27mm – 486mm range).
The SX10 IS is the new version of the S5 IS (and S3 IS before it); I've got friends with both the S5 and S3, so I've had the chance to play with them before. Both friends are nearly fanatical about these cameras, so they were hard to ignore. The SX10 cost about $60 more than the P80, but very importantly, it is powered by AA batteries. It also boasts a nice wide mode and an even larger 20x zoom (28mm – 560mm range). This one is a bit heaver than the P80, but has a nice LCD that actually pivots out and can be turned around to protect the screen and save battery, or be used to aid in self portraiting. One downside is that it doesn't have a provided lens cap keeper string, but I should be able to pick one up very cheaply (Pro Photo was out of stock).
Both cameras were very nice, but the SX10 fit my criteria more closely, so that's what I went with. Of course, I've left out the internal battle I had one whether or not I should get an "advanced" Point and Shoot like this. I figured I could get a much cheaper small P&S with a 4x zoom, and perhaps someday later explore the SLR world. But I think I'm happy. My biggest concern was that the wife would find it too bulky to mess with, but she seems to like it quite well! It IS after all a Point and Shoot and has all the preset auto and scene modes to make things as simple as you want.
To test low-light shots, I took the following three pictures as soon as I got home tonight. I don't think they do the camera justice, but I'm a rookie and I'm just demonstrating some fun differences I found.
All three were taken at ISO 800. I think the images are a bit noisy due to the higher ISO, but bleh, I'm new and playing around. This is my sons room and crib, no lights on with a half-open door letting in some fairly dim incandescent light.
The first image is auto-mode with the flash and auto white balance on. I really want to learn to avoid the flash (or maybe just when to use it), as it almost always makes weird shadows and strange highlights. Anyway… here it is.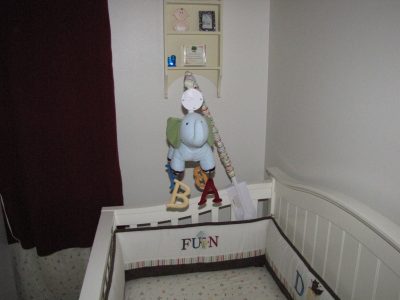 This second is in aperture-priority mode set to f2.8, with the flash off and auto white balance on. It's very obvious this is a dark room in this shot.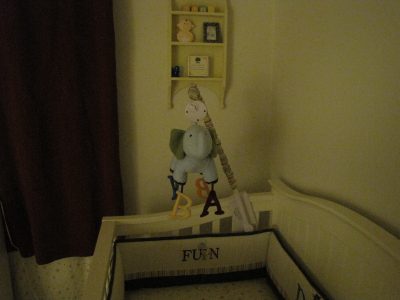 My next thought was "I think I could make this photo better by setting the white balance." So I did just that. I used evaluative white balance to set the the wall as the white but kept it at f2.8 priority and no flash. I then snapped the same picture again. Amazing! It's hard to tell the room is even dark!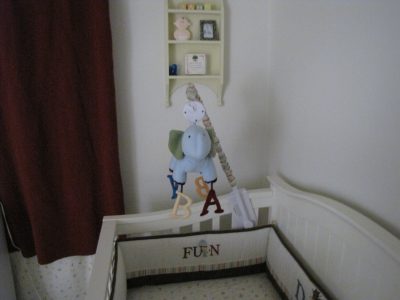 I know I'm going to have lots of fun with this camera. Though it doesn't yet support the Digic 4 processor, I'm looking forward to seeing what the CHDK addon firmware will do for me when it does. Plus, I look forward to lots of fun learning more about photography in general. And the most important thing; the wife seems to like it!